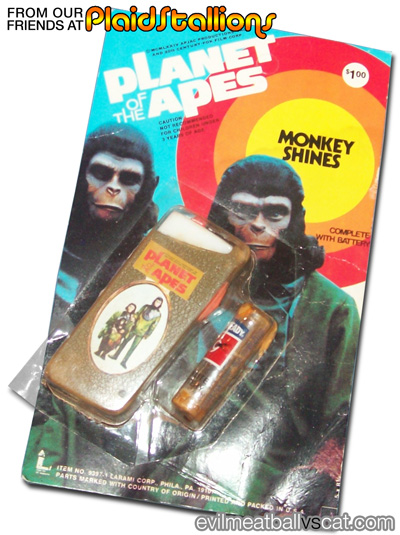 This is the (very real) toy I refer to as "Patient Zero". It's the original toy that infected me with the bug that resulted in Evil Meatball Vs Cat!, and also holds the highest position in the toy weirdness category. It's not so much that Larami decided to make a Planet of the Apes flashlight. Because, like so many cheap rack toys, the company would stamp the name of whatever license they had acquired on whatever toys they happened to make. Many a strange and illogical item has resulted from this. No, it's because they decided to actually call this oddity "Monkey Shines".
Allow me to geek out here: In "Escape from the Planet of the Apes", the third installment of the series, we learn that the word "monkey" is offensive to the apes. If you notice, the sticker on the flashlight itself bears the image from the "Escape.." movie poster. That's just crazy wrong!
Thanks to Plaid Stallions for the image.